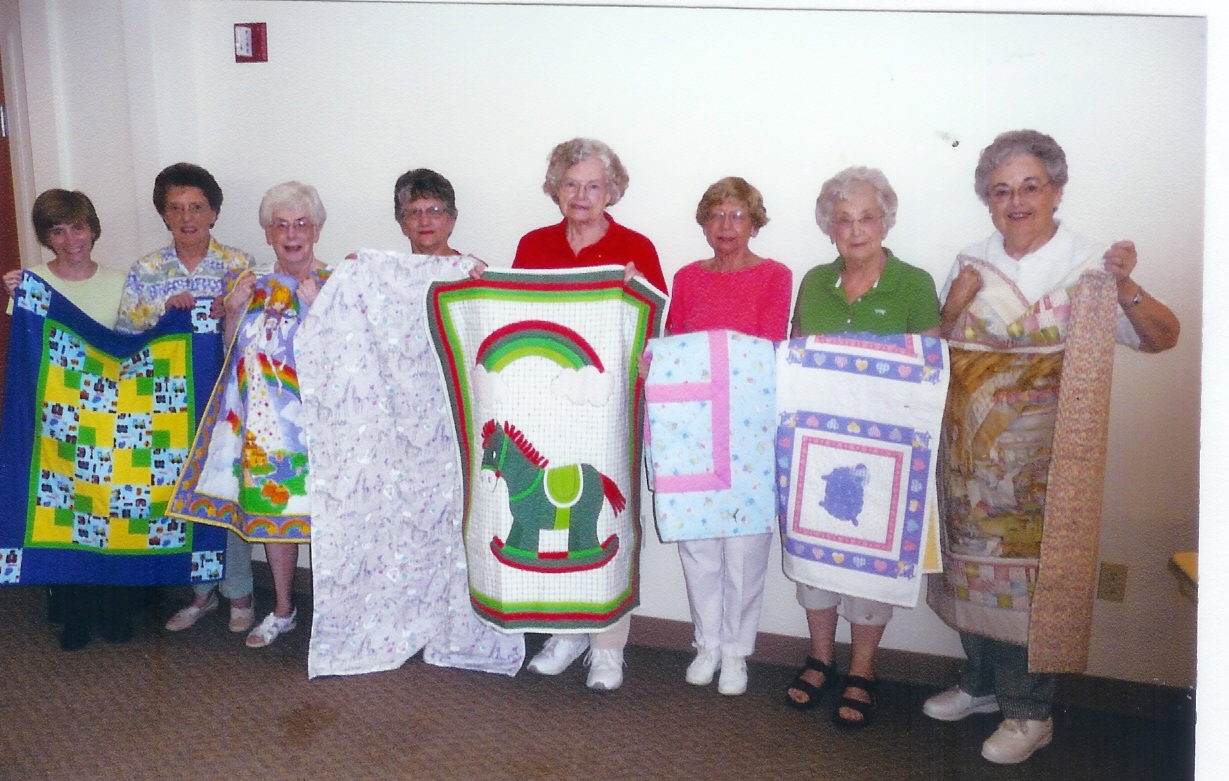 We believe that faith is strengthened when we come together to discuss, build community, and serve one another. St. Mark's offers a wide variety of programs for adults, and all are welcome to join at any point in the year.
Sunday School
Bible Banter
Sundays from 9:30-10:15 am, Room 11
The Scripture text for the morning's sermon is used as a discussion-starter. We look at the passage in its larger context, a bit of Bible-writing history, and some thoughts on the morning's sermon, based on the Scripture the pastor has selected. We leave time to discuss implications of the Scripture for our own lives and delve into topics far afield of the morning's original topic. You are invited to bring some breakfast from Garton Hall into Room 11 and join the conversation.
Nomads
Sundays from 9:30-10:15 am, Room 10
The selected readings for this generally progressive group can prompt discussions on issues of faith, spirituality, and/or social justice. Recent authors whose books have been used have included Barbara Brown Taylor, Joan Chittester, and Richard Rohr. All are invited to join us on Sunday mornings.
Pilgrims
Sundays from 9:15-10:15 am, Room 13
Pilgrims jump feet-first into deeper study of the Bible and its surrounding history. We welcome any and all, at any point in the lecture series, for the presentation and the resulting discussion. Some of our previous studies have included scholarly presentations of perspectives of writings of the Christian Scriptures, reflections in comparative religions, and historical studies of religion. We frequently use video presentations by noted scholars, but we leave plenty of room for discussion in the class. All are welcome to join us on Sunday mornings.
Small Groups
Small groups at St. Mark's are open to all, at any point in the year. These are chances to connect with other people at various times throughout the week, whether it's for discussion, fellowship, adventure, service, or all of the above. For information on current meeting times and programs for any of the small groups below, download a copy of upcoming @St. Mark's.
+ Church and Community Service
Shoebox Project: First Tuesday of the month, 10:30 am. Each month, the Shoebox Project of St. Mark's meets and assembles shoeboxes filled with hygiene products and toys for kids. The shoeboxes are donated to local agencies such as Middle Way House and Monroe County United Ministries. Everyone is welcome to come and to join the fellowship and fun.
Prayer Shawl Ministry: Second Tuesdays, 6:30 pm, Garton Hall Parlor: We invite those who knit or crochet to help provide prayer shawls for those experiencing grief, change, and life joys. We also make baptism blankets and special projects.
Reconciling Ministries Team Meeting: Meets as announced. The Reconciling Ministries Team seeks to help St. Mark's enact our Welcome Statement, that we are welcome "those of all races, cultures, faith traditions, sexual orientations, and gender identities." The team seeks to keep the church community informed as to ongoing events in the United Methodist denomination. The team also that strives to help bring the Open Minds, Open Hearts, Open Doors message of St. Mark's to the LGBT+ community. For example, the team had a presence at the Spencer and Bloomington Pridefest. Join with this team to support the values of inclusion and affirmation.
Women's Circles: There are three "circles" or groups of women who meet for fellowship, education, and mission during the month: the Morning Circle, the Susanna Wesley Circle, and the Charlene Martin Circle. Contact the church office to find out more about these groups, and the ministry of the United Methodist Women.
+ Reading and Discussion Groups
Women of Faith & Wonder: Thursdays at 11:30 am, Room 12. You are welcome to join this group of women who read and discuss thoughtful books that inform and inspire faith journey, while building valuable friendships as they support each other through life's many challenges and joys.
Conversations on Life Men's Group: Fridays at 1:00 pm, Room 15. This men's discussion group invites all men to come together for reading and theological reflection. Visitors are always welcomed.
Pub Theology: Fourth Mondays, 6:30 - 8:00 pm, Avers Pizza East (1285 S College Mall Rd, Ste A). A place to relax with food and beverage and a fun group of thinking disciples to talk a little theology. Contact Jimmy Moore at jimmymoore@smumc.church or the church office for copies of the readings. There will also be copies on the registration desk at church. We would love for you to join us.
Food for Thought Book Discussion Group: Food for Thought Book Discussion Group meets five times during the year to discuss selected books, one from each of the five categories of the UMW Reading Program: Spiritual Growth, Social Action, Nurturing Community, Education for Mission, and Leadership Development.
+ Care Ministry Groups
Care Ministry Choir: This new group assembles a small group of singers who would learn a few easy hymns and folk songs to share with members of our church community who are homebound. The blessings are great even though the time commitment is light - one practice and one visit each month.
Chronic Illness Support Group: Every other Monday, Room 12. This spiritual support group for patients facing cancer or other chronic diseases, along with family members and caregivers, will focus on spiritual support with a Christian and Methodist approach. Our goal is to help each of us thrive on the days we can...and survive on the days we are not sure we can. And, do all of that in faith.
Buddies of St. Francis: Second Tuesdays, 5:30 pm, Room 15. This is a small group experience for those who love animals and believe that our spirituality is enhanced by their presence in the world and in our lives. This humans-only gathering will be a time to share stories, reflect, and consider opportunities for advocacy. Join us. All are welcome.
Grief Support Group: Wednesdays from Sept 11 through Oct 23, 3:30-5:00 pm, Library. It is in a spirit of love and grace that we offer at St. Mark's a new grief support group experience. We extend this invitation to those who have experienced recent loss, or those whose losses are more distant. The group will meet for six weeks, as we both share story and work through a book by Dr. Alan Wolfelt, Understanding Your Grief. To indicate your intention to attend, contact the church office or one of the pastors.
+ Social Groups
Parents of Youth: Second Sundays. Enjoy some food and conversation with other folks raising teens. If you have questions, or would like to be on a contact list for future gatherings, contact the church office. All parents of youth (and grandparents and other loving adults caring for pre-teens and teenagers) are welcome!
St. Mark's Quilters & Crafters: Wednesdays at 1:00 pm, Room 10: Bring your quilting or crafts to Room 10 and spend time with others who enjoy these activities. All skill levels are welcome and encouraged to attend.